Various reports suggest that AT&T DSL usage will soon be capped at 150GB per month starting May 2. And to help users monitor their data usage, AT&T has provided an online tool for users to monitor their internet usage.
So I decided to take a look at my usage patterns. Well, here is the message I got when I went to the site mentioned above: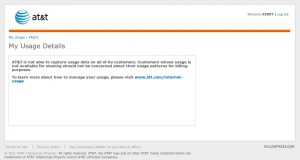 It says:
AT&T is not able to capture usage data on all of its customers. Customers whose usage is not available for viewing should not be concerned about their usage patterns for billing purposes.

To learn more about how to manage your usage, please visit www.att.com/internet-usage
Sounds like AT&T has not implemented metering on all parts of its network yet.