I have to admit, not being able to watch Olympics on Linux is truly disappointing (I,II). I had thought that someone would come up with a solution so that Linux users could also watch the game without having to do so on windows machines. Well, the game has come and gone and apparently Linux users are mostly left out in the dark.
It seems to me that this is more of a nasty business technique than technical limitations. The following message is what I got when trying to view games on nbcolympics site (Firefox under Linux):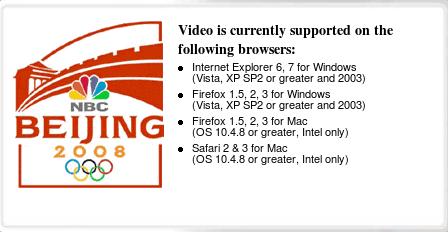 I do not think there is any technical reasons to limit access to just Windows and Mac OS X since we all know that Flash runs on virtually all known operating systems.
Trying to watch the game on a Windows computer is not without issues either. When I used IE I got constantly reminded that installing Silver Light would give me better experience. If this is annoying, then trying watch the game with Firefox on Windows. This is the message I got:
As you can see, I was not even offered the Flash player option!
To me, trying to use one's market dominance to bully people into using its product is simply unacceptable. While at the end of the day someone over Redmond can claim victory, we shall all realize that this is done via unfair competition and not by product superiority.