Since I do not have a DSLR camera, taking photos for my projects under normal room lighting can be quite challenging. When flash is used, the pictures often turn out to be none-uniformly lit and some components reflect quite a bit of light making those portions over exposed. But if I do not use the camera flash, the pictures either turn out to be grainy due to insufficient lighting or yellowish due to the color temperature of the room lights.
So, I decided to build a simple light booth using the materials I have to set up a better lighting environment.
I happen to have some aluminum beams used for rack mount servers and a few brass rods, so I came up with the following design:
| | |
| --- | --- |
| Lighting Booth 1 | Lighting Booth 2 |
Using the existing mounting wholes on the aluminum beams, I could hang four white CFLs on the frames without any problems.
I took the following picture as a test and I was pretty satisfied with the result: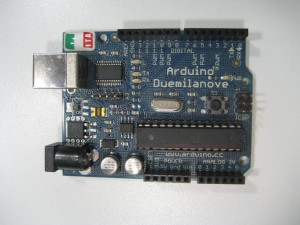 As an unintended benefit, the lighting booth frame can be folded away when not in use so it does not take up much space.