A few of weeks ago, I wrote about a couple of cheap webcams I bought from Amazon. Since the focal lengths of those two seemingly identical webcams are different, I could not use them in stereo vision experiments as I had originally hoped.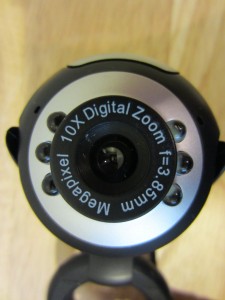 As it turned out, these cheap cameras work great as digital microscopes for examining PCBs. Since these cameras all use manual focus, they can be adjusted to focus on objects within a few inches.
Using a setup similar to the picture below, you can use these cameras to capture closeup views of your circuit boards.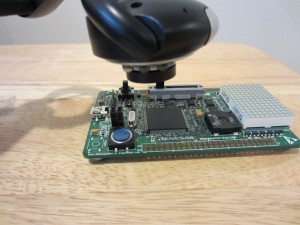 The pictures below were taken without using any special lighting.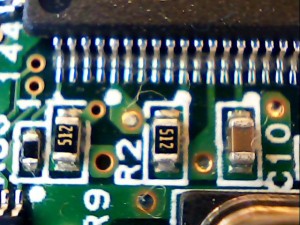 Using this webcam, the markings of those tiny SMD chips can be identified easily. The IC in the center of the picture below is an 8-pin MSOP chip and the marking is extremely hard to read without the aid of a good magnifier and ample lighting. Yet, as you can see the image is pretty clear using the webcam. The resistor in the top right corner is an 0603 resistor.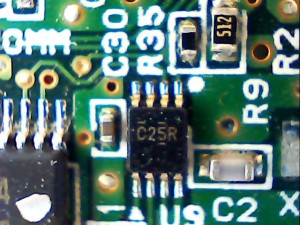 Here is a picture of three 0603 resistors at an even higher magnification.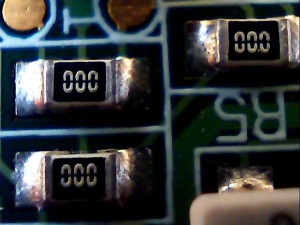 These webcams are pretty good at producing lower magnification pictures of the PCBs as well, as you can see from the pictures below: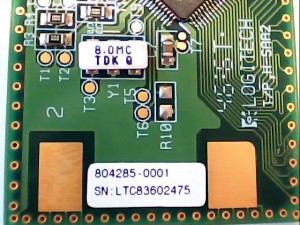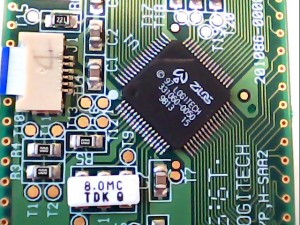 I have to say, I am pleasantly surprised by these capable cheap webcams. Bear in mind that a USB microscope that can produce comparable quality pictures costs at least ten times as much!