I love old Tektronix analog oscilloscopes and I could not seem get enough of them. So when I saw a cheap "untested, unknown working condition" Tektronix 2213 listed on eBay recently, I just could not resist the temptation to grab it.
Unlike the Tektronix 2445 I got earlier, Tektronix 2213 is a no-frills basic 2 channel 60MHz bandwidth scope with limited delayed time base capability, and thus is pretty easy to service. (manuals can be found here).
Here is a picture of the Tektronix 2213 I received (by the way, it is actually fully functional):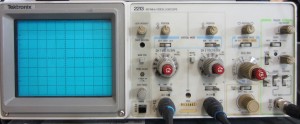 The cover slides off after removing a few screws on the back and side. The layout is pretty straightforward and everything except for the HV circuitry is readily accessible. Note the delay line wrapped neatly around the neck of the CRT. In 2213, the sweep delay time can be chosen from three discrete values (whereas in 2215 the sweep delay can be adjusted continuously), in most situations, this is more than adequate. Unlike on a much higher end 2245 where the intensified zone and the magnified delayed sweep can be seen simultaneously on two separate traces, you can only see either the intensified zone or the magnified trace on this scope.
| | |
| --- | --- |
| Topview | Channel 1 & 2 |
Here are a couple more pictures showing the CRT and its supporting circuitry from the side:
| | |
| --- | --- |
| CRT Side View | Side Adjustment |
And here is a picture showing the other side: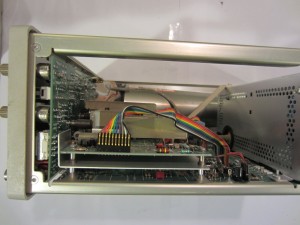 Tektronix 2213 uses a switching power supply which is enclosed within the metal casing towards the end. I had originally planed to open it up to take a closer look at the power supply circuitry, but it turned out to be a bit trickier to do than I had thought after reading the manual so I decided to leave it alone.
The following picture shows the bottom side. Because of the high voltages involved, the designers made sure to properly cover all high voltage areas one could accidentally touch during servicing.
These couple of pictures reveal the entire PCB after the high voltage shielding was removed. The picture to the right is a close up of the HV section. Yes, it could be lethal when dealing with such high voltages. So please heed the warnings.
| | |
| --- | --- |
| Bottom PCB (HV Shield Removed) | Bottom PCB (HV) |
The rise time of this scope, according to the manual is less than 5.8 ns (0.35/BW). Using the avalanche pulse generator I built earlier, the measured rise time seems to be consistent with the specification. The following picture was taken using the fastest sweep speed (0.05 us) and the x10 switch pulled up, this configuration is equivalent of a sweep speed of 5ns/div. So the measured rise time is just under 5 ns.