In one of my previous posts, I did a teardown of a Bertan 225-20R high voltage power supply, which is capable of outputting 1mA with an adjustable voltage range up to 20 kV. The power supply came with a special high-voltage connector however (similar to the CMC series connectors from Connectronics Corp), but I wasn't able to get a mating connection cable. At least not at a reasonable price.
So what I have been using is a makeshift connector glued together with the stuff I have on hand, it does work and has served me quite well over the last couple of years.
Since I just got myself a Creality Ender 3 3D printer, I thought it would be a great starter project to design and 3D print a high voltage connector that properly fits my Bertan 225-20R power supply.
Using thinkercad, I was able to design the housing of the connector (see pictures below). The STL and G-code files for this connector can be downloaded towards the end of this post.
I then used the free slicer software Cura to generate the 3D printable G-code. The final quality of the printed connector is quite good as you can see in the picture below. The threads fits the connector housing perfectly.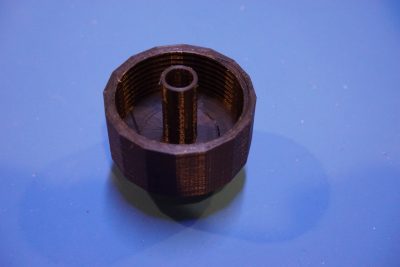 You can see that the 3D printed connector fits nicely over the power supply output.
I just ordered some high voltage cables and once they arrive I will be able to finish the project. Stay tuned!
Download