I built a quad core machine about six months ago. The goal back then was to build a performance PC. Recently, I decided to build another PC so that I could have my mini-cluster.Unlike my previous build, this time I wanted to build one that is cheap, energy efficient and yet powerful. If you recall, my last build used an ASUS P5E (X38) mother board. The choice back then was mainly for performance and overclockability. This time my mother board choice is ASUS P5QL PRO.
ASUS P5QL PRO uses Intel's P43 chip set which uses significantly less power than previous P3x ones. I chose one of the cheapest cases (Rosewill RZS05 SLV) since this PC I am building would not be the primary one. I also chose one of the cheapest and yet most energy efficient video cards (EVGA 256-P2-N429-LR GeForce 7200GS). I could have selected a G43 based mother board with integrated video, but it seems that my choice of G43 boards was quite limited. Price wise, the P43 plus video card solution is actually quite comparable to that with G43. And I believe that my solution only uses a few more watts than what could be achieved with G43. As a benefit of choosing a dedicated video card, the video performance is for sure to top that of a G43's.
My previous built used two G.SKILL F2-6400CL5D-4GBPQ RAM (8GB). Since I do not plan to overclock this time, I chose two G.SKILL F2-6400CL5D-4GBNT(8GB) instead. Both of these RAMs has 5-5-5-15 timing and I believe that the only difference is that the latter does not have heat spreaders.
Here is the full list of the components I chose:
This time I used the stock CPU heat sink. Running at stock frequency (2.66GHz), the stock cooler handles just fine.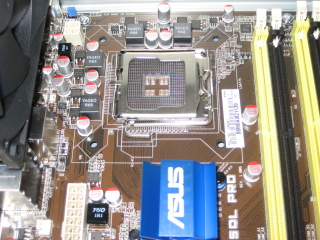 ASUS P5QL PRO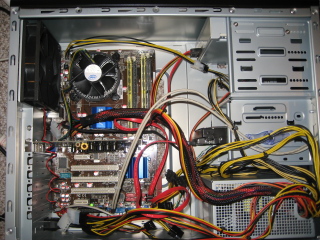 When powered up, this configuration uses less than 100W of power (compared to the 200 plus watts my previous build uses)